FISHING SPOTS & ACCESS
ON THE
EEL RIVER
---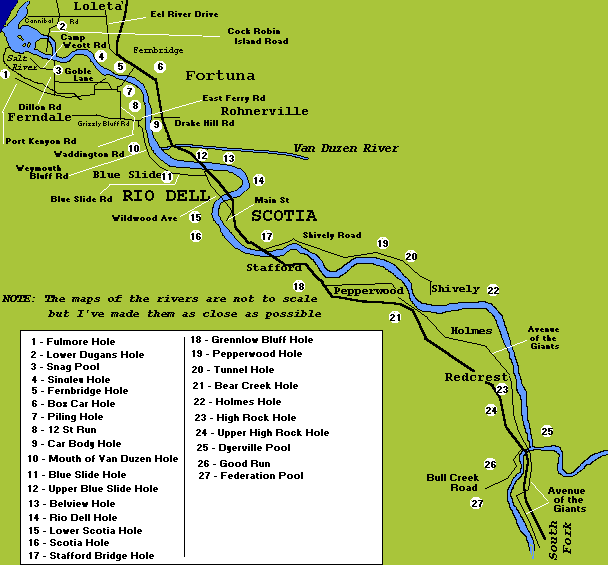 The Eel River flows for approximately 100 miles north through Mendocino and Humboldt counties. Its mouth is located 15 miles south of Eureka. The Eel flows through some of the most beautiful redwood groves in the state, including Humboldt Redwood State Park. When the Eel is running right, its emerald green color is awe inspiring.
The Eel River offers year-round fishing opportunities, with fall and winter salmon and steelhead runs being the best known. Shad fishing during the late spring and early summer offers the angler an exciting change of pace.
The primary fish of interest for the Eel include steelhead, chinook, coho, and sea-run cutthroat trout. Chinook start coming into the river in August. They tend to hold in the waters below Ferndale bridge until rains allow them upstream. The Chinook run from August through December, with the peak in late October. The average Eel chinooks are 8-15 lbs, with some up to 40lbs.
Winter steelhead are what the Eel River is known for. The winter steelhead start moving into the river in November running through March, with peak activity during January. The average Eel steelie runs 8-10 lbs, with fish to 16lbs common and a number of fish in the 20lb class caught each year. The entire system - the Eel, the South fork of the Eel, and the Van Duzen River-provides excellent opportunities for winter steelhead.
The biggest problem with the Eel is the area receives heavy rains and the river blows out. If you are fishing the Eel and this happens give the Van Duzen a try.
---
---
These are some of the main holes and accesses along the Eel, as you drive the area you will probably find more. I have attempted to give information that will help you located fish in the river. If you have a fishing experience on the Eel, please E-mail me your story so I can share it with other visitors to this site.
---
BACK